Zauberei's Grim Grimoire | for Mausritter
A grimoire of six new spells and the necromancer that wrote them down...
All in a tiny printable zine that you can fold and cut yourself!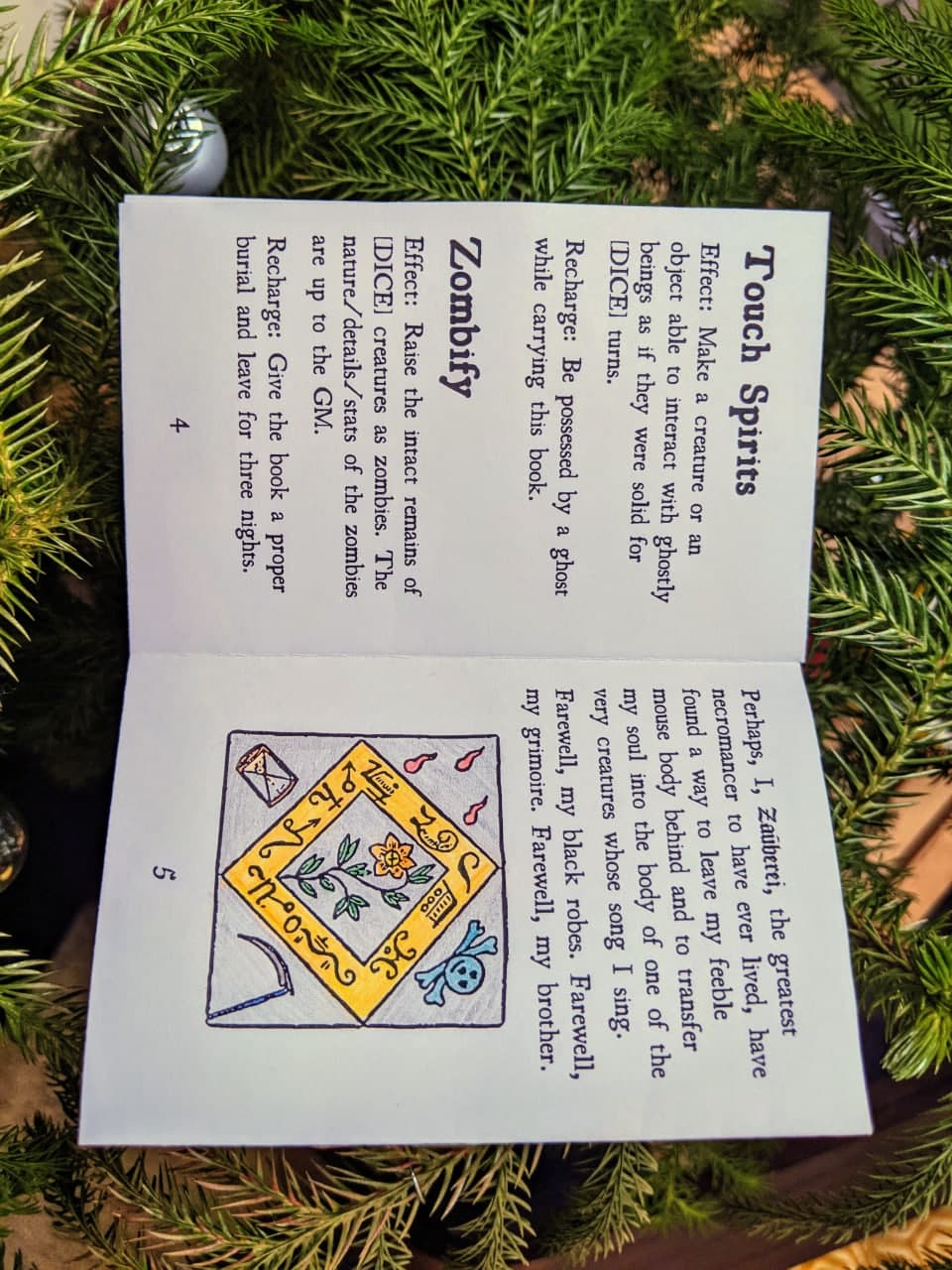 An example zine colored by my partner!

Pay $1 or more for the printer-ready files, the instructions on how to make the zine, and the bonus content of the Zauberabe himself! The basic free version only contains spreads for the grimoire.
Thanks to Star West for their awesome one-page zine template and their handy instructions for making the zine!
---
Zauberei's Grim Grimoire is an independent production by Greyson Yandt and is not affiliated with Losing Games. It is published under the Mausritter Third Party Licence.
Mausritter is copyright Losing Games.
The Skull of You. Vectorized. Credit to Tiffany Chern. CC BY 4.0.

Download
Click download now to get access to the following files:
Zauberei's Grim Grimoire (Spreads).pdf
370 kB
Zauberei's Grim Grimoire and the Zauberabe (Letter).pdf
435 kB
if you pay $1 USD or more
Zauberei's Grim Grimoire and the Zauberabe (A4).pdf
435 kB
if you pay $1 USD or more
Print Instructions.pdf
69 kB
if you pay $1 USD or more
Comments
Log in with itch.io to leave a comment.
It's super cool but I'm seriously struggling making the zine without any example photos.

If you haven't already, I'd check out the one page zine template this is based off of for more examples. I looked up an example video and found this one on YouTube. I hope that helps! If I have some time, I can try to get some photos up.

Lots of custom necrotic spells that fit Mausritter perfectly. If printed and given to your players this could be an amazing surprise at the table. And it gives a lot of ideas for quests and how to incorporate it into the world.